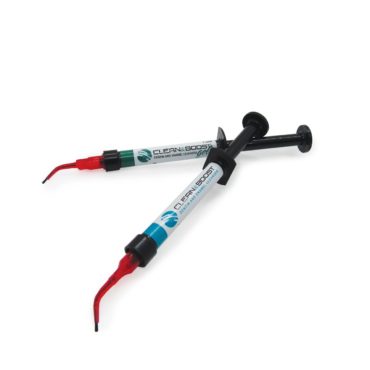 Clean and Boost is an aqueous cleanser that has been designed to remove all contaminants from the surface of a tooth prior to bonding. These contaminants include such things as: tooth debris, temporary cement, bacteria, blood, saliva, handpiece oil, imaging powder, etc.
Along with cleansing the surface, Clean and Boost will act as an etchant to enhance the bond strength of any adhesive system. The usage ensures exceptional margins, eliminates micro-leakage and results in a superior restoration. While cleaning and etching, it also disinfects the surfaces being treated, thus kills the bacteria that can lead to recurrent decay.
Used in conjunction with a single bottle adhesive system, it can improve bond strengths by up to 33%.
Cleansing dentin and enamel surfaces
Removing imaging powder from all surfaces
Disinfecting tooth surfaces
Etching tooth structure for improved adhesion and long-term results
*Previously Purify+
Single syringe kit includes: 1 syringe and 5 tips
5 syringe kit includes: 5 syringes and 25 tips
90058, 90056, 90417, 90057